Inntel Hotels In Rotterdam – Everything You Need To Know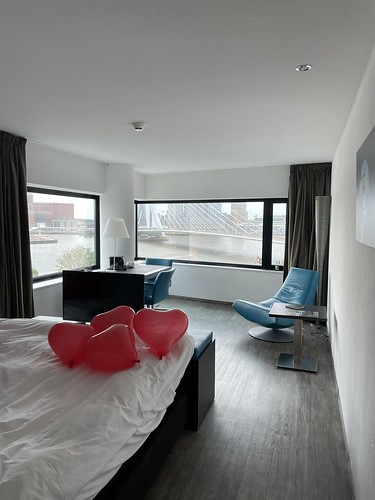 Rotterdam is a great place to visit, ranging from the dynamic city life to a variety of architectural and heritage sites, making it a great tourist destination. In fact, the riverside setting promises great walks and the cultural life has gained traction from all across the globe. However, finding the right hotel can be an absolute pain, and with this article, we are sharing everything you need to know about Inntel Hotels as it's the best one!
Inntel Hotels – The Brief 
Located at 3011 EA Rotterdam, this hotel promises metro access and the location is excellent as you get the best views. This is a high-rise building with perfect water views and the décor is done tastefully, promising nothing but an aesthetic and comfortable experience. In fact, you get to relax in a sauna and a pool while the friendly staff goes beyond every length to make it a comfortable and pleasant experience! 
Beds & Suites 
Bedrooms and suites are the most important consideration when it comes down to hotels and Inntel Hotels will surely be a pleasant experience. Irrespective of which room you choose, you can get free Wi-Fi, air-conditioning, coffee and tea, a hair dryer in the bathroom, and a flat-screen TV for your entertainment. 
City Twin Room –

sized at 194 sq./ft., this is a twin bedroom and is a perfect choice for two people. It offers a city view and has all the amenities you need 

Waterfront Double Room –

sized at 194 sq./ft., this is a room with a queen-size bed and offers a water view, promising the most mesmerizing view in the morning 

Family Room

– this room comes with one queen-size bed and a twin bed, making it an apt choice for a small family. The rooms are connected and you get all the in-room facilities 

Triple Room –

as the name suggests, it's a room for three people as there are three twin beds and the room offers a city view

Panorama Room –

this is a 248 sq./ft. room with a queen-size bed. It's an apt choice for two people and offers a water view as well as Rotterdam skyline views. This room is unique as there is Italian lighting and regal Montis armchairs. Moreover, there is extra storage space as well as a kitchenette available 

Panorama Top Room –

this is 280 sq./ft. room with the most mesmerizing view of the Erasmus bridge. It comes with a king-size bed, rain shower, and a bathtub. In addition, the bathroom offers daylight and there are slippers and a bathrobe available 

Panorama Junior Suite –

the room is sized at 420 sq./ft. and promises a luxury experience for two people. The suite offers a tropical rain shower, whirlpool, and a sauna. In addition, there is designer lighting available with the most comfortable armchairs 
Wellness 
Trips can be exhausting and nothing matches the relaxation provided by saunas and hammam. To begin with, there is a Wellness Club H2O, so you can take a swim while there is a fitness gum available for people who like working out. Moreover, you get hammam access that helps you relax and has great health benefits. Last but not least, you get the hot stone massage and relaxation massage available!
Meetings & Events 
If you are visiting Rotterdam for events and business meetings, there is a meeting room available that contains around 350 people. The meeting room is apt for meetings and workshops but you can also host the brainstorming session. You can opt for multi-day events for hosting the conferences, and in fact, you can host the wedding with great views of the water and city! 
Eateries 
Inntel Hotels promise great eateries available – you get the breakfast option at the waterfront restaurant where you can enjoy hot croissants, fresh rolls, and fresh orange juice. In addition, there is a bar and brasserie available for enjoying a hearty steak, delicious yet healthy salad, and refreshing drinks. 
The Bottom Line 
The bottom line is that the Inntel Hotels is a great option with free Wi-Fi and you enjoy daily housekeeping. Moreover, there is a computer station available in rooms while babysitting is also available for busy parents. Overall, it has all the amenities you need for a comfortable experience.